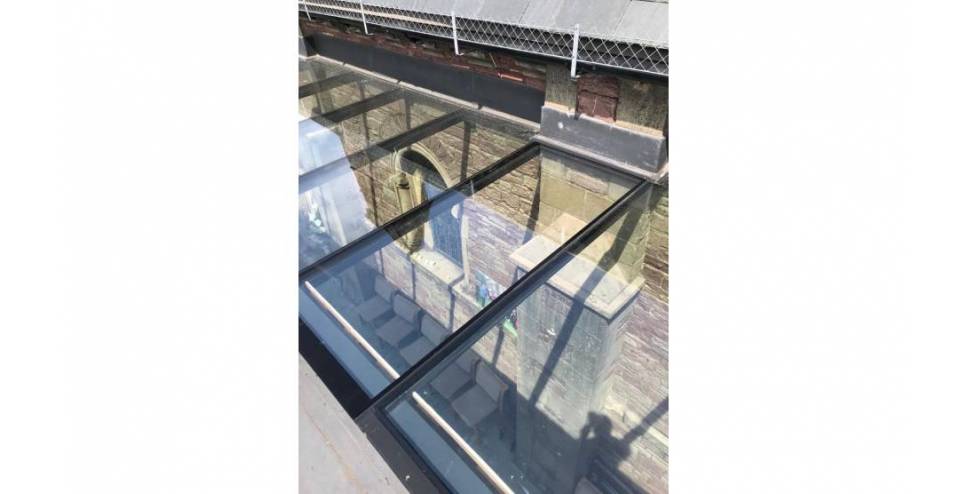 Glass lean-to roofs from Natralight
Natralight's custom-made lean-to glass roofs can be completely configured to meet the width, depth and pitch required, enabling you to create a contemporary glass roof solution to meet the specific requirements of your property.
With slender, thermally-broken aluminium rafters our customised glass roofs can be designed as standalone roofs or they can be integrated above bi-fold doors, sliding doors or windows, creating a stylish modern space. We can also accommodate different kinds of glass such as solar-control, self-cleaning and tinted.

Our glazed lean-to's remove the need for additional structural support using an integral I-beam steel hidden inside the roof structure that sits on top of your wall or on supports on either side. The advanced design allows for clear spans of up to 6 metres to be accommodated, giving you the option of a built-in horizontal aluminium colour matched gutter.

Why choose our glass lean-to roofs
Whether you are looking for a glazed roof for a side-return extension or looking to create a modern glazed extension you can use all year round. Natralight's double-glazed lean-to glass roofs provide the versatility needed to meet your project's requirements.

With a huge, unsupported span of up to 6 metres, our glass roofs are ideal for any size of project, whether you are extending an urban terrace house or tackling a rural renovation.

Our lean-to's can be configured with the required width, depth and pitch to meet the exact requirements of your project.

Understanding roof design
Your roof system can be designed to incorporate opening skylights, for ventilation, which sit neatly into the roof design and can be manually, electrically or automatically operated.

LED down-lights can also be incorporated into the rafters of the roof to add some additional internal lighting.

Get in touch with any questions
If you have any questions about glass lean-to roofs, please do not hesitate to contact Natralight now. We have worked with customers all over the country for three decades and counting giving them the widest range of high-quality rooflight products.

To get a better understanding of our previous work, visit our Instagram feed.