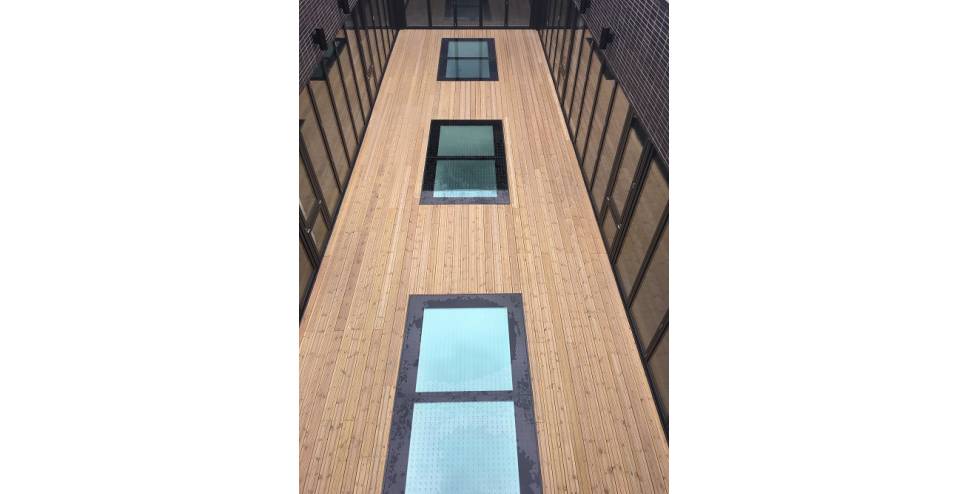 Walk on Glass to Suit any Domestic, Commercial, or Industrial Property
Walk on glass creates a multipurpose roof space while allowing more light into your property. If you are looking to strengthen and adapt an existing flat roof to turn it into a roof terrace or balcony, walk on glazing is a practical and stylish element to include. Available as standard sized units or made completely bespoke to your property, our team will cater to your requirements.
We have been in the natural lighting and glazing industry for three decades and our expertise in developing rooflight innovation allows us to have the best options for our customers.
Create a Wow Factor with Walk on Glass Rooflights
Walk on glass roofing can add a truly breathtaking look to any property. We utilise the best triple glazing techniques for extra strength. Each frame is finished with an anthracite grey semi gloss coating for a contemporary look which harmonises with most other structural materials. Once installed you will be amazed by the incredible appearance and instant value that this adds to your home or workplace.
Over the years, we have supplied walk on glass to countless projects which have had a long-lasting positive effect on the occupants or users of a property. The enclosed space below is transformed by being filled with natural light, making the area feel more spacious without compromising the structural integrity of the outside area above.
Does your property already have a roof terrace? Walk on glass will change an outdoor area with a distinctive modern look that is guaranteed to impress!
Get in touch for more information about walk on glass
If you think that walk on glass will be ideal for you, please contact us and our team will be happy to help you with a design. We can also chat to you about our other services that you may be interested in such as Lean-To Glazing, Sliding Rooflights and Box-Type Sliding Rooflights.