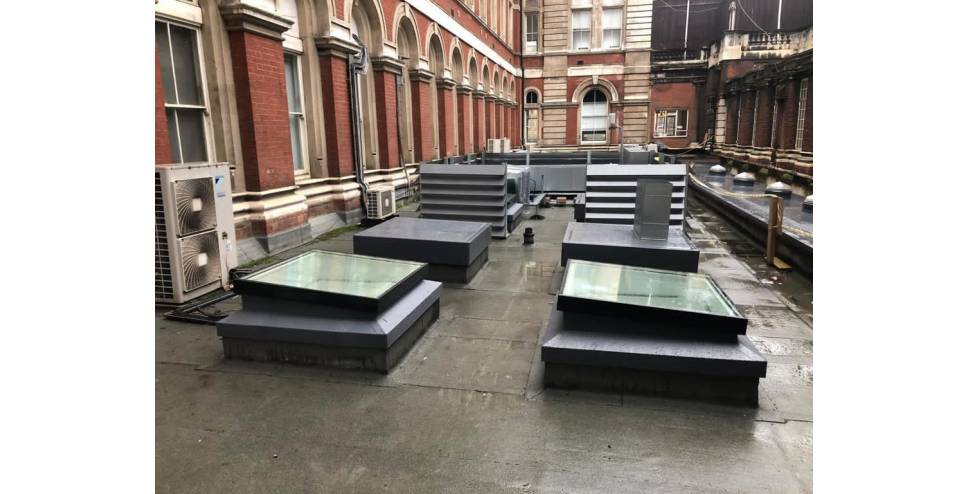 St. Thomas Hospital, London
Natralight was chosen to install flat rooflights at St. Thomas' Hospital, located across the River Thames from the Houses of Parliament.

This project tested the capabilities of our designers, fabricators and installation team. The rooflights provide 60 minutes of insulation and integrity fire protection to the dwellings above, whilst flooding the refurbished hospital wing below with plenty of natural light.

Refurbishing St. Thomas Hospital
In July 2019 it was announced that St. Thomas Hospital would undergo a refurbishment project, to build two shell-and-core buildings.

The project is scheduled to finish in 2023, with two plots at the site on Westminster Bridge Road in London. One plot was named The Triangle, with the building space linking to the adjacent Evelina London Children's Hospital.

The second plot, named Block 4A is a 0.16-acre site that is located on the riverfront at St. Thomas' Hospital.

Both buildings are set to be dual-purpose for both clinical and office use.

The refurbishment also plans to establish a health-technology hub for research and development of new therapies, treatments and technologies.

Marian Ridley, Director at Evelina London Children's Hospital commented,

"Since opening our child-friendly building in 2005, the number of patients we care for each year has grown significantly.

"These developments will ensure we meet their needs now and in the future as the number of patients needing the specialist care and expertise that our teams provide continues to increase."

The Importance of Fire-Rated Rooflights
Here at Natralight, we work with Warringtonfire, one of the leading fire safety companies which help us to ensure that every fire-rated fixed flat rooflight that we produce is of the highest industry and safety standards.

Get in Touch for More Information
If you would like to know more about fire-rated rooflights from Natralight, please do not hesitate to contact us today. We offer all customers free no-obligation quotes on all of our rooflight and structural glass products.