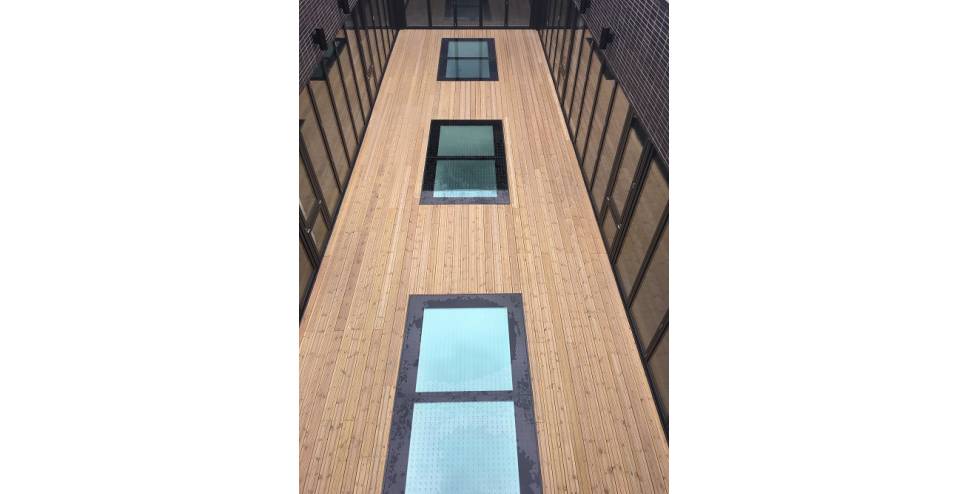 Exquisite walk on glass for your home
Walk on glass floors and roofs can transform sun-starved interiors from dull and uninspiring spaces to naturally bright living spaces.
Here we are going to look at what you need to consider when looking to add this feature to your property. We'll also discuss which rooms our walk on glass could add the most value to.
Planning is vital for a walk on glass installation
Walk on glass for new builds
Designing walk on glass features into a new build home allows you to borrow light by designing open plan layouts; just make sure you check your planning conditions as there are sometimes restrictions on the size of the glazing. With our years of experience the Natralight team can provide expert advice.
Walk on glass for existing properties
The alternative is adding walk on glass to an existing property, which can sometimes be tricky because of existing structures but this stunning feature will only benefit the aesthetic of your home.
Because it will need to be able to support traffic as well as heavy items such as heavy furniture, meaning the Natralight team use thermally toughened, laminated annealed glass as the best solution. If you want a larger area glazed, we recommend using multiple panels to keep the weight down, minimising peripheral works and strengthening the main floor structure.
A must-have for walk on glass units is an anti-slip surface, as glazing experts the Natralight team will find the best option for your home.
Options for installing walk on glass
The obvious areas of your home where walk on glass will look stunning are on the single storey parts of a property but it's always good to consider it for rooms that are quite starved of natural light.
Here at Natralight we are seeing a growing trend of walk on glass being installed on basements and other rooms such as home offices, which have stereotypically darker rooms.
These clever walk-on units provide illumination between different levels of your home.
Talk to our team about walk on glass options
The Natralight team has over 30 years of experience of delivering the very best glazing solutions to a host of markets including domestic properties and commercial buildings. We offer the off-the-shelf option or we can design and manufacture bespoke walk on glass features.
Contact our team today and we can discuss how we can provide quality glazing for your property.